You can pay with Bitcoin, USDT or Bank Transfer. It is easy to buy USDT at Binance P2P or Bitcoin at localbitcoins.com from your local crypto's users using internet banking.
Please send your payment to one of these USDT wallets
Please send your payment to one of these BTC wallets
HOW TO BUY BITCOIN AT LOCALBITOINS.COM (FAST, WITHIN 5 MINUTES)
What is localbitcoins.com ?
LocalBitcoins is a peer-to-peer Bitcoin exchange. We are a marketplace where users can buy and sell Bitcoins to and from each other. Users, called traders, create advertisements with the price and the payment method they want to offer. You can browse our website for trade advertisements and search for a payment method you prefer. You will find traders buying and selling Bitcoins online for more than 60 different payment methods.
How do I buy Bitcoins using my local bank transfer?
How am I protected from being scammed?
All online trades are protected by escrow. When a trade is started the amount of Bitcoins for the trade is automatically reserved from the seller's LocalBitcoins Wallet. This means that if the seller runs away with your money and does not release your Bitcoins LocalBitcoins.com support can release the Bitcoins to you from escrow.
How do I send Bitcoins to AutoBotSoft after buying them?
If you purchase Bitcoins using LocalBitcoins.com, the Bitcoins will appear in your LocalBitcoins Wallet. From there you can easily send the Bitcoins to other Bitcoin addresses. The vast majority Bitcoin services are compatible with each other, the same Bitcoins you buy from LocalBitcoins will work in your favorite online stores that accept Bitcoin, and also in local shops that accept Bitcoin.
To send Bitcoins from your LocalBitcoins Wallet enter the receiving address and the amount you wish to send and click continue.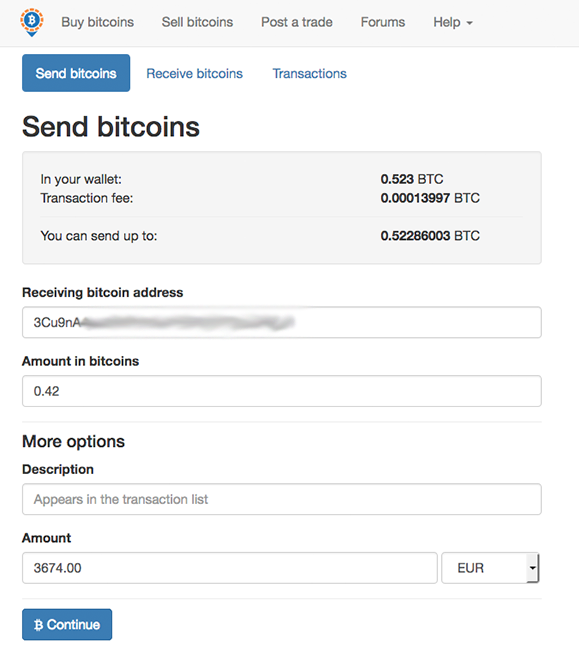 On the following page review the details, and enter your password (and your two-factor authentication code, if you have 2FA enabled) to send the transaction.
How long does it take to send or receive Bitcoins using my LocalBitcoins Wallet?
Transactions between LocalBitcoins users are instantaneous.
HOW TO BUY BITCOIN OR USDT AT BINANCE.COM
What is Binance ?
Binance is a cryptocurrency exchange that provides a platform for trading various cryptocurrencies.Binance is currently the largest exchange in the world in terms of daily trading volume. You can buy Bitcoin and USDT using Binance P2P
How to Register on Binance?
How to Buy Cryptocurrency on Binance using your local banks?
What should I buy to send to Autobotsoft?
You should buy USDT and send to our USDT wallet instead of Bitcoin because sending USDT on Binance is almost Zero fee.
How to send USDT to Autobotsoft?
You can learn here how to send (withdraw) from your wallet to Autobotsoft wallet
HOW TO PAY USING CREDIT CARD/ BANK
How to pay using Credit Card or bank transfer?
You can use WISE to send money directly to our bank account using your Visa/Master Card. Click here to visit Wise Home Page
How to send money after opening a Wise account?
You can send money to our bank account directly using Wise (Swift method). Bank detail as follow:
Bank account number 3969036
Account holder's name: Hong Den Nguyen
Receiver's Currency: CAD
Bank name: BMO (BANK OF MONTREAL)
Financial Institution No: 001
Branch Transit No: 21101
Swift code: BOFMCAM2XXX
Email: dennguyenhong@gmail.com
Country: Canada
Province: Montreal
Address: 3800 Avenue Linton, Montreal, QC
Postal Code: H3S 1T4